Welcome to DIVA!
Whether you're looking for a new social outlet, a chance to rekindle your competitive spirit, or simply want to be involved in something worthwhile, DIVA is for you. 
The Dallas Independent Volleyball Association (DIVA) is the largest LGBT-friendly not-for-profit volleyball organization in Texas. We offer recreational through extremely competitive play throughout the year.
Summer Season is Starting!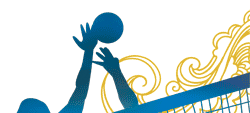 Summer registration is opening soon! 
We will have two nights of play split by divisions for Summer Sand play this year. Indoor will remain on night night and still be mixed division. 
Make sure to keep checking back for updates on Summer Indoor and Sand registration.  

End of Season Tournament Info
For the first time, we are splitting the End of Season Tournament due to lack of court space at one facility. 
Rec, Comp, Elite
Elite and Competitive begin play at 8:30 am at Winning Edge. Recreational will begin play around 12 noon at Winning Edge. 2221 109th Street, Grand Prairie, TX 75050. 
Int and Adv
Intermediate and Advanced will begin play at 8:30 am at Arlington Courts. 3120 E. Pioneer Parkway, Arlington, TX 76010.